Recruit Dunedain Soldiers to protect the realm of Arnor with their swords, shields and formations.
Formation

Shield Wall - The Dunedain Soldiers gain +20% armor but lose 30% movement speed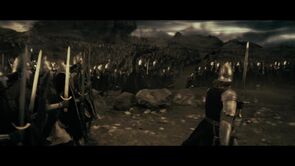 Upgrades
The Soldiers of Arnor have access to the following upgrades:


Banner Carrier - This upgrade can only be given to a level 1 battalion and will promote it to level 2. At level 2 the battalion can regenerate units when out of combat. Cost: 200

Heavy Armor - Increases the armor, hit points and damage resistance of the unit to ranged damage. Changes the unit's armor set to EdainInfantryHeavyArmor. Cost: 300

EdainInfantryHeavyArmor
DEFAULT
100%
SLASH
100%
PIERCE
65%
CAVALRY_RANGED
135%
SPECIALIST
65%
CRUSH
135%
CAVALRY
135%
SIEGE
100%
FLAME
100%
FROST
100%
MAGIC
100%
HERO
150%
HERO_RANGED
150%
STRUCTURAL
150%
CHOP
100%
URUK
150%
WATER
135%
FlankedPenalty
25%
Forged Blades - Increases the damage of this battalion and provides a damage bonus against other infantry (swordsmen, pikemen, archers, etc...). Cost: 300


Sword of the Westerness - Makes the unit invulnerable to FLAME, MAGIC, FROST, POISON and FORCE damagetypes and increase their damage by 50% against ringwraiths, Karsh and Wights.
Strategy
The Dunedain Soldiers are Arnor's basic foot soldiers. They function best as spam troops for early game and creeping early. However, due to Arnor's better late-game swordsmen, the Palace Guards of Arnor, they shouldn't be built once the Arnor player has the resources to crank out Palace Guards.