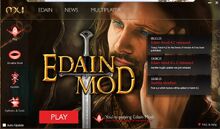 The Launcher is an essential part of the mod as it allows the player to update easily the mod from a single source, downloading only the required files instead of the entire mod all over again. Once the mod is installed, a shortcut will be created on the desktop but it can also be accessed from the ROTWK folder.
The Launcher has many tabs each with it own purpose. Once you open the launcher you will see the Edain tab there you can access the other tabs, disable the mods from two different points start playing or check the news. Just right of that you can see the News tab where you can access the latest articles through a quick external link to ModDB.
Further right stands the Multiplayer tab there a multitude of options are offered to the player from accessing the Tunngle website to launching it without forgetting a link to the Rules and Discussion of multiplayer along with the Edain Online support. At the bottom left just over the FAQ you can see the number of players currently online.
Enabling/Disabling Mod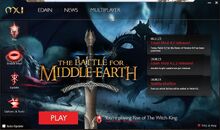 If you look to the left you can see four buttons no matter what tab you are in: Play, Disable/Enable Mod, Update and Options and Tools along with the ability to allow the launcher to auto-update.
Play will allow you to start the game with or without the mod, Disable/Enable Mod allows the player...well... to Disable/Enable the mod, Update takes you to a new tab where the player can choose to search for new updates and finally Options and Tools.
Options and Tools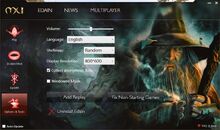 This button takes the player to a tab where they can control the volume of the Launcher's music, change the language of the launcher, change the "Shellmap" or the background on the main menu of the game. The player can also change the resolution of the game, decide whether to let Edain collect anonymous data or not, choose whether or not to play in windowed mode, add a replay, fix a non-starting game and choose, if they wish, to uninstall the mod.