Elite Kryptik is a Youtuber who has based his channel on Edain and then branched off to other series such as Total War Divide and Conquer or Lord of the Rings Online. He provides competitive and serious multiplayer content and shows his proficiency in the game very clearly. He has also showcased Beta patches for the Edain team, allowing people to see what a new faction (like Imladris or Angmar ) is like before it is released. He has a fierce hate of all that is evil and is a big fan of Rohan.
He has hosted the Ultimate Cup Tournament which was a raw skill 1k, Skirmish Settings Tournament.
He has featured in a couple of RuudDevil's videos and RuudDevil has featured in a couple of his videos.
Known Habits
In severals of his video Elite Kryptik has repeatedly displayed certain habits that have become part of his youtube personality, they are as follow:
Edain Content
Elite Kryptik is a very organized individual, his videos are all categorized depending on the content and grouped together in playlists, giving us the ability to neatly list all his content:
1 VS 1: In this playlist you can see Elite Kryptik fight against another player, whether from his circle of friends or random Gameranger user. They follow the current multiplayer competition rules.
2 VS 2: In this playlist, Elite Kryptik teams up with one of his friends to take down two enemy players, again either from his circle of friends or from Gameranger. This often tend to become a bit crazy as tensions arise between both enemy players and allied players, but in the end it's just a bit of fun.
3 VS 3: This is where stuff gets really insane. The Edain Mod is balanced for 1 VS 1 games, the 2 VS 2 games can still be Edain-like enough but at 3 VS 3 all sense of balance is lost and everything goes nuts. The troop count on the map reaches unbelievable heights and troops just run all over the place like crazy. This is guaranteed fun and possible salt.
4 VS 4: Little is known of 4 VS 4, little is said and there are little proof that they even exist. 4 VS 4 requires an extreme amount of luck to pull off on an old game like ROTWK. First it requires gathering 8 people, something that demands a good amount of logistic planning. But if nobody crashes and the game goes through as planned it's the promise of one hell of a story to tell your kids later.
Beta Showcase: Those are just some games against AI using the latest Beta Patch, this features exclusive features that are no yet released to the general public. Sometime he will do some multiplayer games against other beta tested but they tend to be more for showcase.
Just For Fun: Just some childish games against AI or with specific requirements.
Known Affiliates
Haman
Sawman
DevilsDaemon
TiberiumLeader
GoodFella
Heisenberg
Most Viewed Edain Video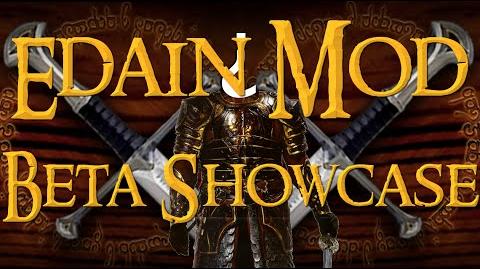 This is EliteKryptik's most viewed Edain Video. In it he showcases Edain Mod 4.4 Beta (patch that included Imladris faction). He was playing Edain map called Udun.
Quotes
"Stay Awesome!"
"Go after the Rohirrim, leave the Knights alone... Oh god, I can't believe I just said that. No, go after the Knights leave the Rohirrim alone.
"Coup de gras, motherf*cker!"