"You are banished forthwith from the kingdom of Rohan, and all its domains, under pain of death."
Exiles are the banished Rohirrim that followed Eomer in his exile. Only 3 battalions can be on the battlefield at the same time. They can be recruited from the Exile Camp outpost expansion. Once the King's Camp upgrade (cost: 1000) has been purchased, Exiles no longer become available; instead, Royal Vanguards become recruitable. The Exiles are recruited in less than 5 seconds, making them ideal for supporting positions that need assistance immediately.
Abilities

Wedge Formation - The Exiles are slowed 50% less when trampling but lose 25% armor.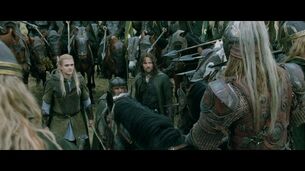 Upgrades
Exiles have access to the following upgrades:


Banner Carrier - This upgrade can only be given to a level 1 battalion and will promote it to level 2. At level 2 the battalion can regenerate units when out of combat. Cost: 200


Heavy Armor - Increases the armor, hit points and damage resistance of the unit to ranged damage. Changes the unit's armor set to EdainCavalryHeavyArmor, if Horse Shields has been purchased changes the armor set to EdainCavalryHeavyShieldArmor. Cost: 300

EdainCavalryHeavyArmor
DEFAULT
100%
SLASH
30%
PIERCE
65%
CAVALRY_RANGED
135%
SPECIALIST
170%
CRUSH
100%
CAVALRY
100%
SIEGE
100%
FLAME
100%
FROST
100%
MAGIC
100%
HERO
150%
HERO_RANGED
150%
STRUCTURAL
200%
CHOP
30%
URUK
45%
WATER
135%
FlankedPenalty
12%
EdainCavalryHeavyShieldArmor
DEFAULT
100%
SLASH
15%
PIERCE
32%
CAVALRY_RANGED
65%
SPECIALIST
170%
CRUSH
100%
CAVALRY
100%
SIEGE
100%
FLAME
100%
FROST
100%
MAGIC
100%
HERO
150%
HERO_RANGED
150%
STRUCTURAL
100%
CHOP
15%
URUK
22%
WATER
135%
FlankedPenalty
12%

Forged Blades - Increases the damage of this battalion and provides a damage bonus against buildings. Cost: 300


Horse Shield - Increases armor of the battalion against Pikemen by 25% and armor against Swordsmen by 50%. Changes the armorset to EdainCavalryShieldArmor, if heavy armor has already been purchased changes the armorset to EdainCavalryHeavyShieldArmor. Cost: 200
EdainCavalryShieldArmor
DEFAULT
100%
SLASH
15%
PIERCE
50%
CAVALRY_RANGED
50%
SPECIALIST
170%
CRUSH
100%
CAVALRY
100%
SIEGE
100%
FLAME
100%
FROST
100%
MAGIC
100%
HERO
100%
HERO_RANGED
100%
STRUCTURAL
65%
CHOP
22%
URUK
15%
WATER
135%
FlankedPenalty
12%
EdainCavalryHeavyShieldArmor
DEFAULT
100%
SLASH
15%
PIERCE
32%
CAVALRY_RANGED
65%
SPECIALIST
170%
CRUSH
100%
CAVALRY
100%
SIEGE
100%
FLAME
100%
FROST
100%
MAGIC
100%
HERO
150%
HERO_RANGED
150%
STRUCTURAL
100%
CHOP
15%
URUK
22%
WATER
135%
FlankedPenalty
12%
Strategy